I've had many people ask me what pattern I used for my children's Christmas stockings, but since it was my own pattern, I couldn't direct them to anything online! My pattern was actually just a bunch of scratchings on a REALLY abused piece of paper... plus some coffee stains.
Now that my kids are happy, after I made them some of my homemade hot chocolate recipe, I'm going to sit and type up my pattern for you all to enjoy!
I know it isn't too long before Christmas, but they really don't take THAT long to whip up! They are mostly straight knit, so except for the little socky type things along the way, they are a good relaxing knit! I timed myself once and the whole process was approx. 6 hours. So really... whether you are slower or faster, you can take a couple hours here and there and finish one pretty fast!
Keep in mind... this stocking is pretty BIG! I modeled it after the Christmas Stocking that my Grandmother, Dorothy, made me when I was young. PLENTY of room for lots of goodies! Ooooo ya! ;-)
I'm writing this as a "scrappy" pattern (like the 2nd photo shown below), although you can have a lot of fun choosing just what colors you'd like! I will give directions for TWO COLORS also. AND, if you feel extra creative, you can duplicate stitch a fun design on the legs!!
Here's a photo of all of our stockings (even my daughter's "Snoopy-looking" stocking for her annoying little firefly puppet, "Sparky"). This photo was taken prior to my little Squeaker being born, back in 2010, so I've added hers below this photo!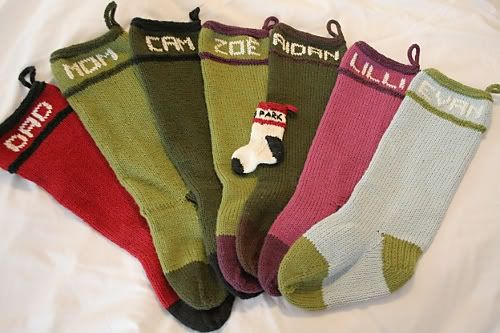 This shows what a great stash buster these stockings can be!! I just think hers is SO cute!!! This scrappy stocking is actually a little different than the rest I've knit, and more like what THIS pattern ends up to look like! I didn't like the way I did the top before, so I switched to seed stitch!
*I hadn't added her name yet...but it's there now!