New Rule to make it even more fun! I found that on some days, every entry had won a pattern, so I wasn't sure what to do. SO... I made a new rule! When that happens, I choose 2 names that day. If the 1st name I choose has already won my pattern, they get another chance at the wool at the end of my contest AND get another pattern to gift to a friend! Then I choose another name and the same applies to that person! This gives each entry more chances to win my pattern!
It is the season for GIVING!! The Lord has been so good to me over the years and I have always loved the spirit of giving and the warmth it brings to my soul! Here is one way I am giving this Christmas season.
Each day for...
30 Days
I will be giving away a free pattern!! (
RULES BELOW
) and then at the end of the 30 days, I will choose one of the 30 winners to receive
3 Free Skeins of Cestari 100% Fine Merino
in the colors of their choice!
Click on the photo below to check out my pattern page on Ravelry! (and if you aren't a FREE member, make sure you join and add me as a friend! I am "purityseekers")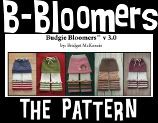 OFFICIAL RULES
Starting on the DAY AFTER THANKSGIVING (Nov. 25th) and ending CHRISTMAS EVE...

I will choose a winner each day from that day's comments on this blog! I will choose after 8PM EST and will announce the winner that night or the next morning! (Forgive this tired Mama if I get behind and announce a few days worth of winners in one day! With 6 kids, you just never know what will happen!!!)

Rule #1. Become a follower of this blog by any of the right sidebar options... Twitter (and use #bbloomers and share a link to this blog entry too!), Email or become a Follower by the "Join this site" option! (This is a new blog, so I'm desperate for followers...what else can I say??? haha!!!) And if you've already done any of these, just post "already a follower" or something like that!
Rule #2
. Comment on this post and tell me why you'd like to win a copy of my pattern!! DON'T FORGET to give me your email address (so I will know where to email your Budgie Bloomers Knitting Pattern PDF file if you are a winner!!)
Comment again for another entry!!! If you get tired of telling me why you want my pattern, just say something that will make me smile like "your pattern rocks!"
Rule #3
. Please visit my
Knitting Maniac Facebook
page and "like" it and say hello to me if you'd like! I love getting Facebook comments!!
If you leave me a note on my Facebook wall, comment here to tell me and I'll give you ANOTHER entry for the day! No matter what, comment each day and tell me you "liked" my page and that will be your 3rd entry for the day!
Comment, Comment, COMMENT!! (THREE ENTRIES! WOO!!!)

**If you win, feel free to keep on entering each day for an extra chance to win the yarn! If you already won a pattern, I will give the pattern to the next in line to win! BUT make sure to enter each and everyday UNTIL you win!!**

PLEASE share a link to this blog entry on your Facebook, Blog, Forums, etc!! I really want this to be a fun giveaway and have lots of people get a chance to win!!!

I hope you all have a wonderful Jesus-filled Christmas this year and a 2012 filled with joy!
How fun is this????
Love, Bridget