PDF version now available! It is a written pattern without any photos during the tutorial. Refer to this blog post if you would like to view photos as you knit your project!
This is for knitting it seamless on straight needles (AKA "double knitting") That is my favorite way of doing it, but I will publish an "in the round" version soon too!
Advent Calendar Knitting Pattern (photo heavy)
(seamless on straight needles version ~ you are knitting both sides at once, inside out. Then you will turn the project right side out after binding off and VOILA, you will have a cute little sack!)
This photo shows a finished sack at the top and the bottom of a sack in the process of being knit. See how it is inside out as you are knitting it?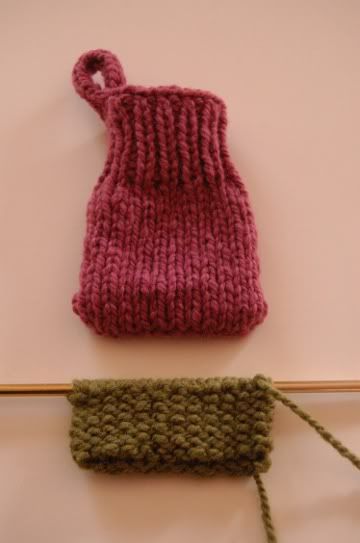 If you have a small child, get them all snuggled up for a nap (heck, lay 'em in your bed beside you while you kick up your feet!) and get your needles clicking!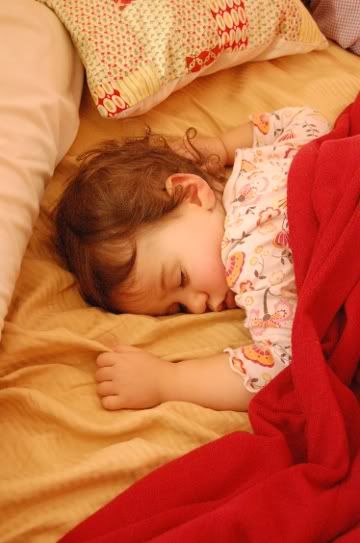 Small amounts of different colored worsted weight wool (I used Cestari Fine Merino)
Size 8 knitting needles (or needle you prefer for knitting with worsted) ~(for main part of sack)
Size 5 knitting needles (or any size smaller than the above needle size, to cinch top in a bit) ~ (for top ribbing)
You will be knitting the sacks from the bottom up!
Using Size 8 needles, CO 12 stitches.
You can see how the "knit" stitches are the back and the "slip" stitches will be the front (you will knit the front stitches on the next needle!) If you stop in the middle of your work and open it up a bit, you can see how you are creating a hollow sack that just appears connected at the top!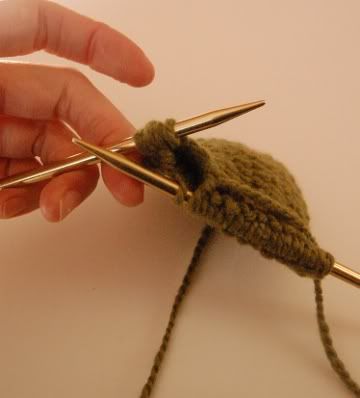 Continue in this manner until piece measures 3".
Switch to Size 5 needles and start creating a K1,P1 ribbing:
*K1, slip next stitch "as if to purl", bring yarn toward you and P1, return yarn to the back and slip the next stitch "as if to purl"* across needle.
Continue in this manner until piece measure 4.5".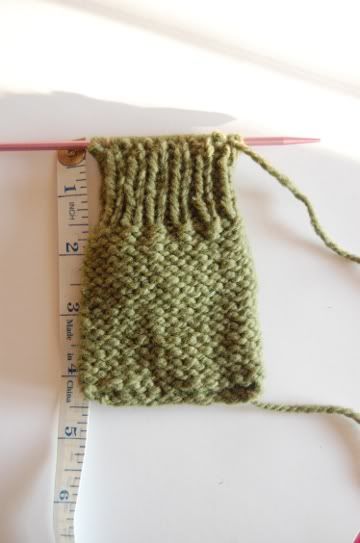 At this point I take 2 size 8 DPN's and separate the stitches in this manner:
*sl1 to first DPN, sl1 to second DPN* until you have the front stitches on one needle and the back stitches on another.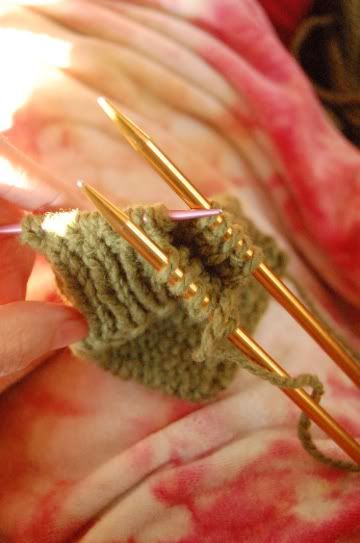 Once they are all separated, it should look like this. Your working yarn should be to the right and coming off the front needle...
Now you can bind off! Starting with the first 2 stitches on the back needle, K2tog through the back...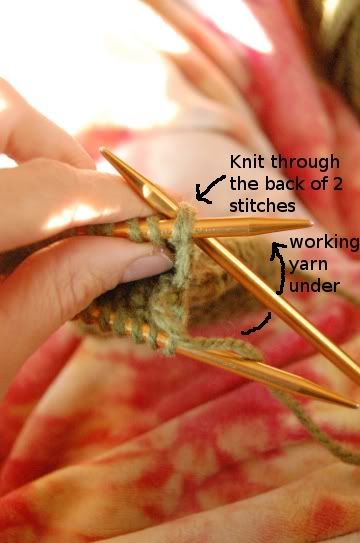 Slip the stitch from the right needle back onto the left and continue binding off all stitches.
When you end up with one stitch left on the first DPN, just slip it onto the closest end of the next DPN and keep on binding off!
When you have just one stitch left, pull it out a bit so it's a bigger loop, weave in the cast on tail at the bottom and then flip your project "right side out". Now, make that big loop regular size again, pick up and knit 2 stitches to the left side of the loop so that there are 3 stitches on the DPN. Knit a 3" i-cord...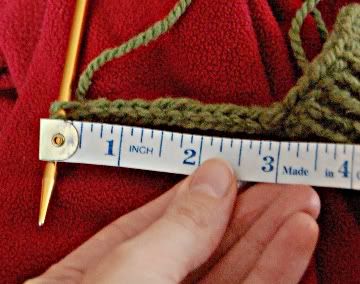 and then bind off leaving a long enough tail for sewing. Take the top of the i-cord and bring it down to meet the start of the i-cord and sew it into a loop for hanging!
Weave this end in and you are done knitting your advent calendar sack! (only 24 more to go! haha)
Duplicate stitch the numbers on with a contrasting color...
or hang a little numbered tag or whatever you prefer!
I have more done, but here are a few I've knit up!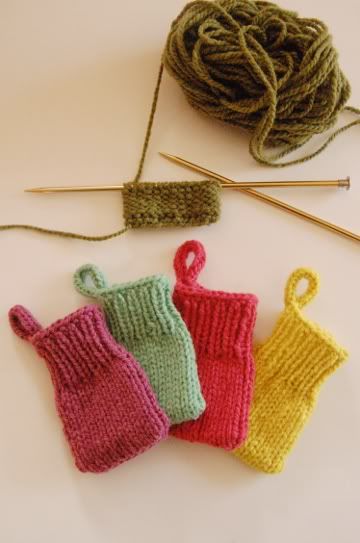 Fill them with little treats or toys for your child/children to open on each day of December leading up to Christmas!! Hang them on a long i-cord, twisted cord, or any other rope or cord of your choice!